Trekking in Sardinia
THE TYRRHENIAN COAST: WILD NATURE AND LOCAL TRADITIONS
Let yourself be transported to the Tyrrhenian coast of Sardinia and discover beaches and trails of the most exciting in the Mediterranean.
The towns of Santa Maria Navarrese and Baunei are the entrance doors to the Supramonte di Baunei area, with its exceptional natural and cultural heritage.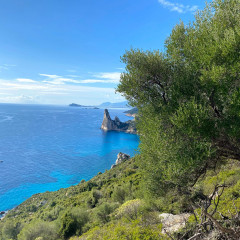 The Supramonte plateau gives direct access to the entire coastal strip that goes from Pedra Longa to Cala Sisine. It is a rural area dotted with goat shepherds' shelters, sheepfolds and even nuraghi. With the exception of the well-marked paths for accessing the most popular beaches (Cala Goloritzè, Cala Sisine), you go through a tangle of ancient paths and mule tracks in the Mediterranean scrub that were originally used to connect the sheepfolds or to transport coal to the sea.
The history of the place is truly fascinating and deserves to be known by walking on the paths of the past.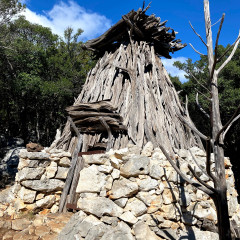 The architecture, the vegetation, the local specialties are the ideal accompaniment to an intense multi-day trek.

The physical and technical commitment as well as logistical is not trivial. We are in fact in an area with very scarce water resources, with challenging terrain on which it is difficult to navigate and very far from accommodation facilities, but for this very reason it acquires an even greater value in terms of personal satisfaction.
Here you will find our suggestions for tackling the Selvaggio Blu.
This famous technical and intense multi-day trek takes place between Santa Maria Navarrese and Cala Gonone.
In addition to the Selvaggio Blu Classic, that has become famous all over the world, we also offer more demanding variants both from a technical and a physical point of view Selvaggio Blu Fast & Light and Selvaggio Blu 2.0.
Everyone can therefore find their own dimension and proposal to enjoy a true corner of paradise that has bewitched us for many years now!