3 giorni di corso vie lunghe nelle Dolomiti
04/08/2022 - Nuova proposta autunnale!!
Unfortunately, this content is not available in English at the moment. Showing original instead.
Una nuova proposta autunnale per imparare a muoversi indipendentemente su vie lunghe nel super scenario delle Dolomiti!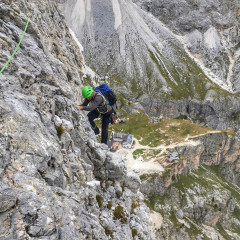 Quando: 16/17/18 Settembre 2022
Dove: Passo Sella e dintorni
Requisiti: 5b (V+ UIAA) da primi di cordata
Costo: 350 euro a persona
Temi trattati:
Materiali: differenza tra i vari tipi di tessuti (kevlar, dyneema, nylon), corde (corde intere, mezze corde, corde gemelle, spessori e parametri vari), controllo dell'usura sull'attrezzatura
 La scelta dell'itinerario
 Gli ancoraggi: spit, chiodi, dadi friends
 Le protezioni naturali: spuntoni, clessidre, alberi
 La sosta, collegamento di due o più punti. Sosta fissa e mobile.
 Sistemi di assicurazione al primo di cordata a frenata assistita (gri-gri. click up etc...) o manuale (secchiello, mezzo barcaiolo...)
 Assicurazione in sosta con Multi Chain oppure barcaiolo
 Utilizzo del mezzo barcaiolo pro e contro
 Recupero del secondo di cordata (ATC, Reverso, Be up etc...)
Integrare le protezioni con friends e dadi.
 Calata in corda doppia
 Manovre di emergenza: calata con l'infortunato, passaggio del nodo etc...
 Breve introduzione alla corda corta da utilizzare nelle discese o su facili tratti di salita
Guida: @davidemarinovich
 Trovate il programma completo al link:
Corso di arrampicata su vie lunghe nelle Dolomiti
Vi aspettiamo!!
Davide, Andrea e Veronica